Rechargeable Electric Heating Thermal Insoles
Regular price
$81.15
/
10% off Order 2+ with Coupon:

J10

20% off Order 3+

with Coupon:

J20

30% off Order 5+

with Coupon:

J30
---
Keep Your Feet Warm And Comfortable During Winter And Even Challenge The Extreme Cold Weather.
The remote control heated insoles are the perfect option for anyone with cold feet! Whether you are hiking your favorite trail in the Poconos, or deer hunting in Iowa, you will love the warmth and comfort of the USB electric heated insoles. 
With built-in, ultra-fine heating panels strategically placed under the toes, they are the best-heated insole option on the market. Our rechargeable heated insoles are made with waterproof, breathable, and deodorant material.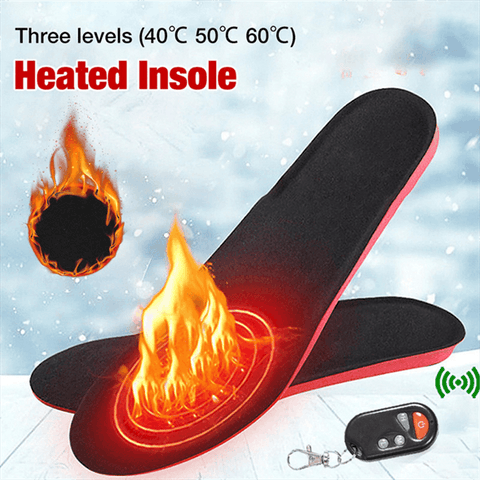 This wireless heated insole is exactly what you need to stay warm and enjoy outdoor activities during cold weather conditions without your feet getting overheated or sweating. The far infrared heating element distributes heat smoothly and evenly. Integrated thermal protection module. Once it overheated, it would stop. It is absolutely safe for your foot.
This Electric Heated Shoe insole uses high-tech wireless thermal technology with no cables, extension cords, Velcro straps, or battery strap holders and no batteries mounted on the ankle, shoe, or waist. The rechargeable foot warmer insoles generate pleasant and healthy warmth while naturally stimulating blood circulation. And it is ideal for any type of outdoor activity such as skiing, hiking, and fishing, etc.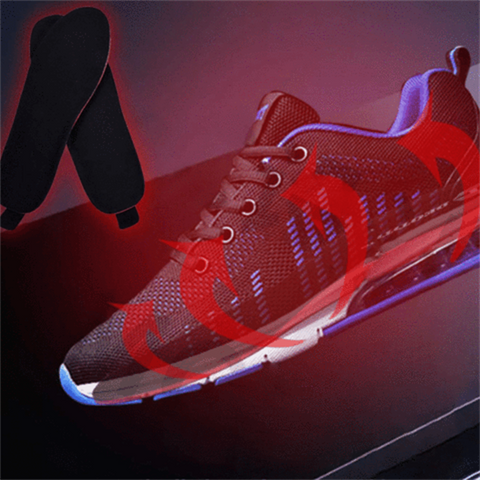 Electric Wireless Heating Insoles Features :
🔥 PERFECT SOLUTION TO YOUR COLD FEET : Our Heated Insoles will keep your feet warm rather than getting hot and sweating. Unparalleled partner when you are working, doing housework, or taking your pet for a walk in the cold winter
🔥 ONE SIZE FIT ALL & SAFE  : These heating insoles can be cut into your size. Steady shape and best fit with shoes. ( US Shoes Size 7.5-12 /4-6.5) ( ranging from 35-40 Euro size, and 41-46 Euro size.) No wires, extension cords, Velcro straps, or battery strap brackets & no batteries mounted to your ankle, shoe, or waist
🔥 WIRELESS REMOTE CONTROL : The rechargeable heated insoles contain a remote control, simply press the 'ON' button and choose a comfortable heating temperature, when not used, press the 'OFF' button. Three heat settings available: High-temperature mode 2-3.5 hours (53℃-60℃), medium temperature mode 3.5-5.5 hours (48℃-52℃)-low-temperature mode 5.5-9 hours (40℃-50℃) (depending on environmental conditions).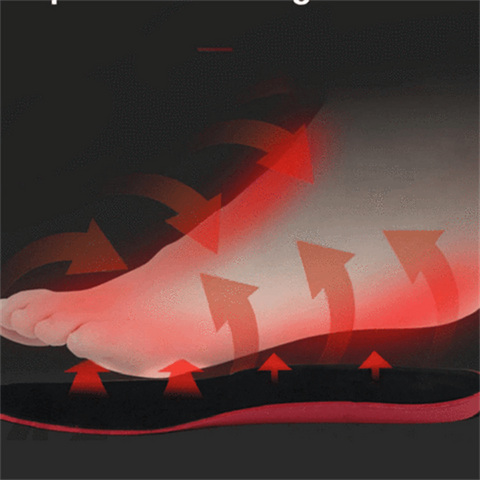 built-in safe 2100mAh lithium polymer battery. The circuit and battery are protected by a steel casing with a high load-bearing capacity.
🔥 VENTED DESIGN : This electric insole can be bent by 180 degrees. It is washable, reusable. And you can wash it via a brush. (not for machine washing). Best heated boot insoles for outdoor sports, chores, hunting, hiking, camping, fishing, etc
🔥 PACKAGE INCLUDE : One pair of heated insoles, one charger, One remote, one pair of batteries, one manual instruction. It's an ideal gift for your mother, father, wife, husband, friend, and for Christmas Day, Birthday.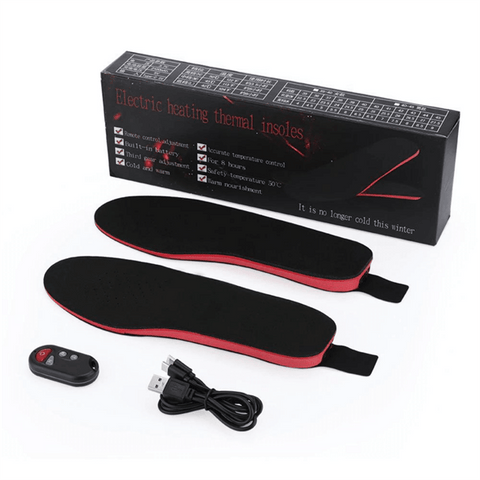 Insole Use and Operation:
1. Long press the switch for 3 seconds, the LED indicator lights up, and the red light turns on, indicating high temperature.
2. Press again, the blue LED light is on, indicating medium temperature.
3. Press again, the green LED light is on, indicating low temperature.
4. Press the off button on the remote control to turn it off.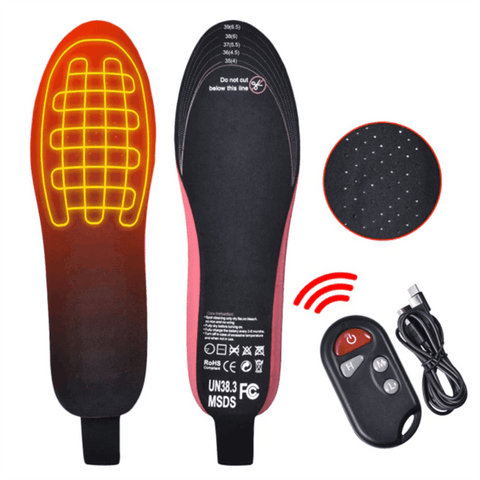 Remote Control Operation:
1. Press the remote control H/ON to turn on the high temperature.
2. Press the remote control M to turn on the medium temperature.
3. Press the remote control L to turn on the low temperature.
4. Press the off button on the remote control to turn it off.
Size Charts - For ALL Ages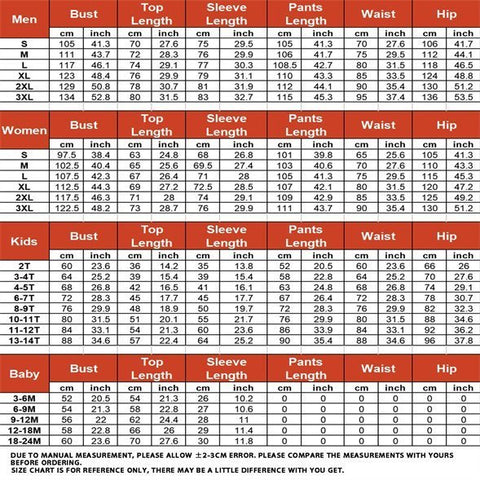 1. What is the uniqueness of your jewelry?
In spite of standard products, all of our jewelry are customized, including custom names, classic jewelry colors, a variety of fonts, charming gems and fully personalized photos. Life is normal and commonplace, love makes it meaningful and shining. Our original intention is to provide our customers with sincerely made products and excellent service.
2. How can I pay for the order?
Thanks so much for your trust. A full variety of payment methods are available in our store, which is definitely safe and 100% secure. You can pay with Credit Card, Apple pay and PayPal. 
 3. What materials are your jewelry made of?
Jechic jewelry always uses the best material to create a flawless piece of art. The jewelry pieces are mostly made of 925 Silver, copper,some are made of stainless steel, which is shining and durable, the birthstone collection is matched with exquisite gems. 
4. Where do your products come from?
We're a China-based company. All of our products are made and shipped from China, thus the shipping is guaranteed. We provide competitive prices relying on China's efficient supply chain system, and all products are handcrafted.
 5. Do you ship globally?
Yes! We work with reliable delivery companies to deliver our products worldwide. Our products will reach you in several days globally.
 6. May I revise the custom info?
Take time. You can contact us to revise the information within 12 hours after your payment. And we'll try our best to support your decision.
7. Is it possible to change my address after shipping?
Thanks for your support firstly. It's possible to revise the address before shipping. If your package has been shipped already but still in our domestic area, we'll try our best to get it back and change it to the correct one.
But if your package has been delivered to your country, we have to ask for your help to return it back to make an exchange. And we're sorry to tell that you may need to bear the corresponding costs incurred.
Therefore, please check your order and the custom information carefully.
 8. How can I track my Shipping Status?
We have a responsive after-sale service system to ensure informing you of the latest tracking information via email. You can easily track your shipping info any time through any tracking site. Also, feel free to contact us at any time through our mailbox: service@jechic.com
 9. Why can't I find your email?
Take it easy. Please check your mailbox setting to make sure our emails will not go to your spams. And please inform us via the CONTACT US button, and we'll make a reply ASAP.
 10. I am a local retailer, do you have a special price or discount for bulk orders?
Sure! In spite of drop-shipping, bulk order is definitely welcomed. Please contact us at any time if you want to become our distributor.
11. How do I do if I meet problems when purchasing?
Don't worry dear! Your satisfaction is our primary mission. Please find us freely if you meet any problem, our customer service will help you out to solve various problems.
 12. What can I do if I received a damaged or broken item?
We guarantee we send you flawless products. But sometimes the products may be damaged during long-distance transportation.
If you have received a damaged products, please contact us immediately so we can solve the issue the first time!
13. My jewelry changed color, is it normal?
Yes, it's normal. As we all know, silver reacts with oxygen any other substances in the air to oxidize to silver sulfide. So your silver piece gets darker compared with its original appearance.
You could read our post blog about jewelry cleaning to learn daily care, Plus, common jewelry shops can do the cleaning for you to make it shine again.
** Please contact us to exchange or return due to personal reasons. However, we are not responsible for the damage due to vandalism. And we are not responsible for the shipping fee of exchange or return. We'll appreciate it if you could understand.**