90 Degree Corner Clamps (4 Pcs)
Regular price
$41.99
Sale price
$28.99
Save 31%
/
Free Standard Shipping Over $49
Free Expedited Shipping Over $99
---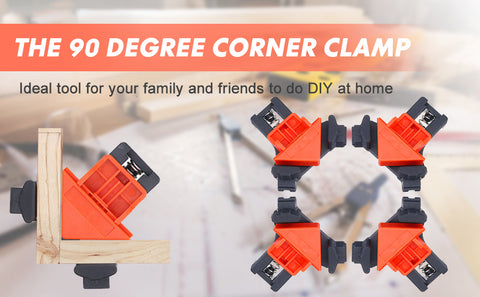 The newly designed 90° corner clamp is a great value for home DIYers. It is a good choice for aligning, nailing, woodworking, welding, screwing, making cabinets, boxes, and picture frames, and can be set up nearly instantaneously.
4pcs Woodworking 90 Degree Right Angle Clamp Clip Quick Picture Frame Corner Clamp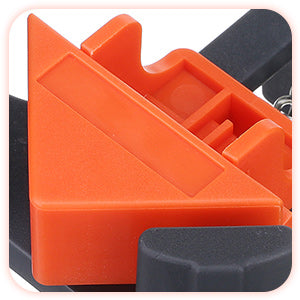 The body parts of the fixture are made of high-quality materials that are more durable, stronger, but lighter. Extending service life.
Adjustable for two woodblocks of different thicknesses and 90-degree corner or T-joints.
Single handle, adjustable jaws, sturdy, non-slip, strong rubber handle for quick set-up and quick fix.
【Adjustable Corner Clamps】90 degree clamps load with strong spring, fit for boards with a thickness of 3/16″ – 3/4″ (5-22mm) and 90-degree corner or T-joints, even apply to assembly of two board with different thickness.

【Easy to Use】4 Pcs woodworking clamps sets can be operated with a single hand. It allows you to open this clamp with one hand, and the second hand is kept free for the workpiece, saving labor time and reduce workload. Do good for fast and simple fixing of boards and frames at an angle of 90 degrees, screwing or gluing boards together.

【High Quality】The clamps for woodworking are made of good quality material and it is durable enough to work many times without damage.

【Perfect for Woodworking】The spring clamps are suitable for small wooden DIY projects, like build wooden boxes, picture frames, birdhouse, mailbox, dresser drawers assembly, cabinet and furniture repair connection.
Use fixer to fix  90°, easy to assemble the small shelf
Easy to fix the four corner photo frame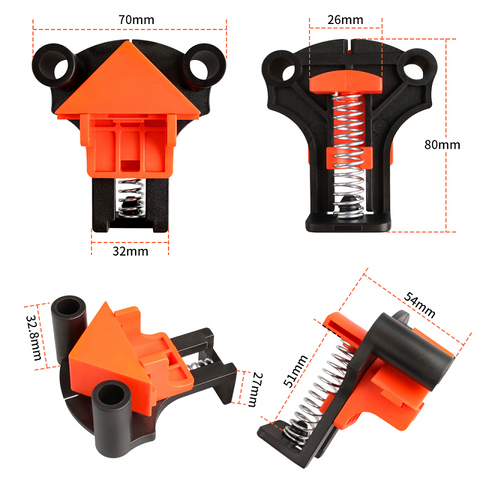 Color: Orange and Black
Material: Metal and Plastic (Durable to use)
Clamping range: 5-22mm
Suitable for: woodworking, cabinet and furniture repair connection, photo frame reinforcement, wooden DIY project, etc
Package Included: 
Regular version set :
4PCS x 90° Corner Clamps
Upgraded version set :
4PCS x 60°/90°/120° Corner Clamps
1. What is the uniqueness of your jewelry?
In spite of standard products, all of our jewelry are customized, including custom names, classic jewelry colors, a variety of fonts, charming gems and fully personalized photos. Life is normal and commonplace, love makes it meaningful and shining. Our original intention is to provide our customers with sincerely made products and excellent service.
2. How can I pay for the order?
Thanks so much for your trust. A full variety of payment methods are available in our store, which is definitely safe and 100% secure. You can pay with Credit Card, Apple pay and PayPal. 
 3. What materials are your jewelry made of?
Jechic jewelry always uses the best material to create a flawless piece of art. The jewelry pieces are mostly made of 925 Silver, copper,some are made of stainless steel, which is shining and durable, the birthstone collection is matched with exquisite gems. 
4. Where do your products come from?
We're a China-based company. All of our products are made and shipped from China, thus the shipping is guaranteed. We provide competitive prices relying on China's efficient supply chain system, and all products are handcrafted.
 5. Do you ship globally?
Yes! We work with reliable delivery companies to deliver our products worldwide. Our products will reach you in several days globally.
 6. May I revise the custom info?
Take time. You can contact us to revise the information within 12 hours after your payment. And we'll try our best to support your decision.
7. Is it possible to change my address after shipping?
Thanks for your support firstly. It's possible to revise the address before shipping. If your package has been shipped already but still in our domestic area, we'll try our best to get it back and change it to the correct one.
But if your package has been delivered to your country, we have to ask for your help to return it back to make an exchange. And we're sorry to tell that you may need to bear the corresponding costs incurred.
Therefore, please check your order and the custom information carefully.
 8. How can I track my Shipping Status?
We have a responsive after-sale service system to ensure informing you of the latest tracking information via email. You can easily track your shipping info any time through any tracking site. Also, feel free to contact us at any time through our mailbox: service@jechic.com
 9. Why can't I find your email?
Take it easy. Please check your mailbox setting to make sure our emails will not go to your spams. And please inform us via the CONTACT US button, and we'll make a reply ASAP.
 10. I am a local retailer, do you have a special price or discount for bulk orders?
Sure! In spite of drop-shipping, bulk order is definitely welcomed. Please contact us at any time if you want to become our distributor.
11. How do I do if I meet problems when purchasing?
Don't worry dear! Your satisfaction is our primary mission. Please find us freely if you meet any problem, our customer service will help you out to solve various problems.
 12. What can I do if I received a damaged or broken item?
We guarantee we send you flawless products. But sometimes the products may be damaged during long-distance transportation.
If you have received a damaged products, please contact us immediately so we can solve the issue the first time!
13. My jewelry changed color, is it normal?
Yes, it's normal. As we all know, silver reacts with oxygen any other substances in the air to oxidize to silver sulfide. So your silver piece gets darker compared with its original appearance.
You could read our post blog about jewelry cleaning to learn daily care, Plus, common jewelry shops can do the cleaning for you to make it shine again.
** Please contact us to exchange or return due to personal reasons. However, we are not responsible for the damage due to vandalism. And we are not responsible for the shipping fee of exchange or return. We'll appreciate it if you could understand.**