Christmas Santa & Snowman Wine Bottle and Glass Holder
Regular price
$19.99
/
10% off Order 2+ with Coupon:

J10

20% off Order 3+

with Coupon:

J20

30% off Order 5+

with Coupon:

J30
---
Christmas Wine Bottle and Glass Holder Set includes a Snowman with white stand and a Santa with red stand. Makes the perfect Holiday gift -they're useful and decorative.

Each Santa and Snowman Wine and Bottle Holder conveniently holds 1 bottle and 2 wine glasses.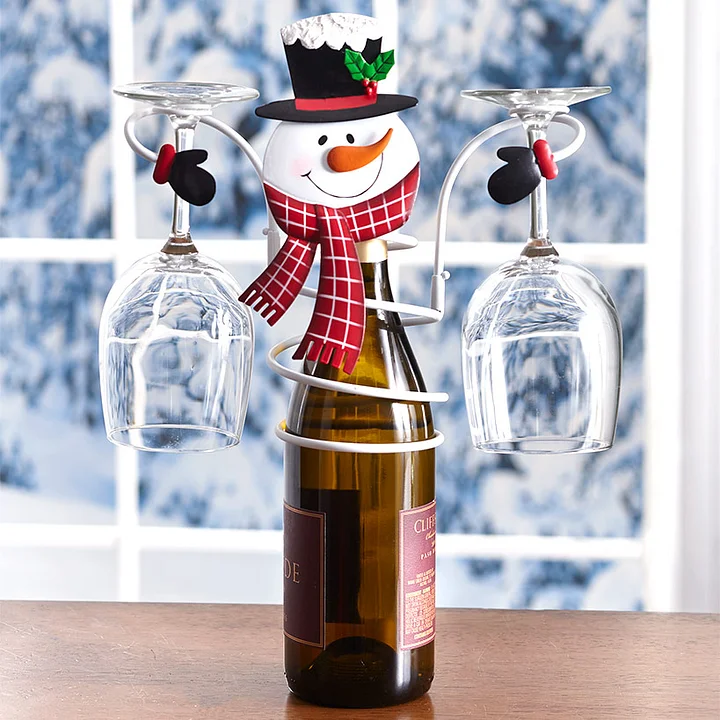 Its spiral body fits snugly around a standard wine bottle, while its two arms hold your wine glasses.
Two cheerful holiday characters Santa and Snowman adds fun detail to the useful piece.
Arms are not removable to avoid falling off. Made of metal!
Made from:
Metal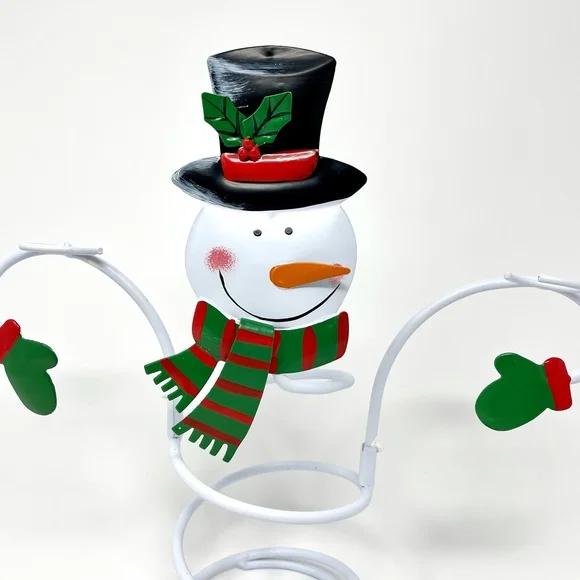 Measurements:
Approx. 10"W x 3-3/4"D x 9"H

Color:  Colorful
Age_group:  Adults
Gender:  Male/Female
All of my wine holders are shipped with the utmost care and I secure each one as well as reinforce each box to make sure it arrives in the condition it ships out in.

If your package arrives with damage please take pictures of the box before and after opening then send them to me via my email. This helps to speed up the process for insurance claims.
1. How can I pay for the order?
Thanks so much for your trust. A full variety of payment methods are available in our store, which is definitely safe and 100% secure. You can pay with Credit Card, Apple pay and PayPal. 
2. Where do your products come from?
We're a China-based company. All of our products are made and shipped from China, thus the shipping is guaranteed. We provide competitive prices relying on China's efficient supply chain system, and all products are handcrafted.
3. Do you ship globally?
Yes! We work with reliable delivery companies to deliver our products worldwide. Our products will reach you in several days globally.
4. Is it possible to change my address after shipping?
Thanks for your support firstly. It's possible to revise the address before shipping. If your package has been shipped already but still in our domestic area, we'll try our best to get it back and change it to the correct one.
But if your package has been delivered to your country, we have to ask for your help to return it back to make an exchange. And we're sorry to tell that you may need to bear the corresponding costs incurred.
Therefore, please check your order and the custom information carefully.
5. How can I track my Shipping Status?
We have a responsive after-sale service system to ensure informing you of the latest tracking information via email. You can easily track your shipping info any time through any tracking site. Also, feel free to contact us at any time through our mailbox: service@jechic.com
6. Why can't I find your email?
Take it easy. Please check your mailbox setting to make sure our emails will not go to your spams. And please inform us via the CONTACT US button, and we'll make a reply ASAP.
7. I am a local retailer, do you have a special price or discount for bulk orders?
Sure! In spite of drop-shipping, bulk order is definitely welcomed. Please contact us at any time if you want to become our distributor.
8. How do I do if I meet problems when purchasing?
Don't worry dear! Your satisfaction is our primary mission. Please find us freely if you meet any problem, our customer service will help you out to solve various problems.
9. What can I do if I received a damaged or broken item?
We guarantee we send you flawless products. But sometimes the products may be damaged during long-distance transportation.
If you have received a damaged products, please contact us immediately so we can solve the issue the first time!
10. My jewelry changed color, is it normal?
Yes, it's normal. As we all know, silver reacts with oxygen any other substances in the air to oxidize to silver sulfide. So your silver piece gets darker compared with its original appearance.
You could read our post blog about jewelry cleaning to learn daily care, Plus, common jewelry shops can do the cleaning for you to make it shine again.
** Please contact us to exchange or return due to personal reasons. However, we are not responsible for the damage due to vandalism. And we are not responsible for the shipping fee of exchange or return. We'll appreciate it if you could understand.**