The Iconic Carrie Name Necklace - True Classic Will Stand The Test of Time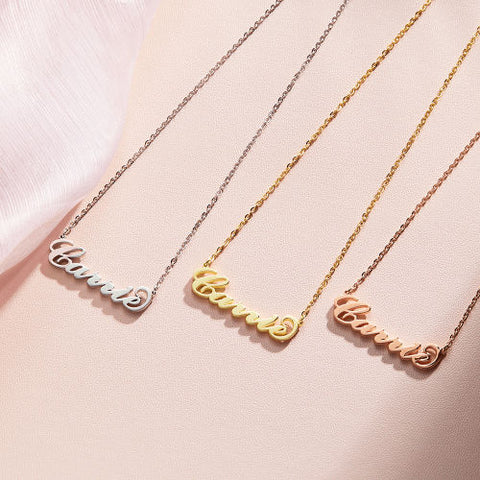 The Carrie name necklace is an iconic piece of jewelry recognized by many women around the world. Today the classic accessory is back in fashion and enables women to fill this fashionable moment in life again. Jechic offer a wide range of personalized name chains and contemporary styles that prove that a true classic will stand the test of time.
CULT ICON CARRIE BRADSHAW
Necklaces with name tags existed many years before the popular TV series "Sex and the City" - usually in gold with sophisticated script. But after Sara Jessica Parker wore the Carrie necklace in the series, the distinctive necklace with her character's name tag immediately became a fashion trend. Carrie Bradshaw went through many different style evolutions, but the chain has always remained a constant trademark. Sex and the City fans were crazy about this trend that they picked up on Carrie. More than two decades later, the name tag fad is back in fashion and enjoying great popularity.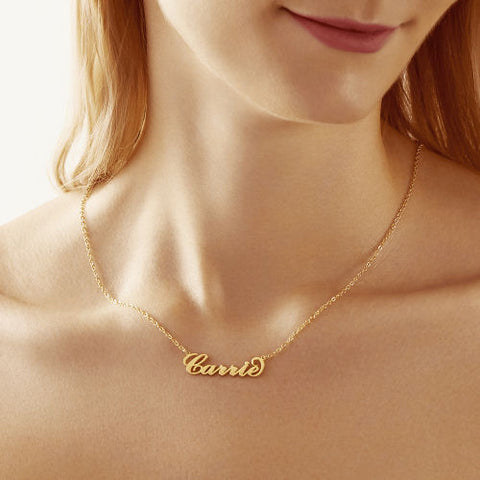 THE LOVE STORY BEHIND THE NAME
Fans of the series were devastated when Carrie lost her beloved chain in Paris during the series finale. The necklace she had bought while shopping with her best friends and which symbolized her single days in New York had become a priceless piece of jewelry that reflected the development of Carrie for women of all ages. Patricia Fields, the show's legendary costume designer, explains that she had a shop in town where many of the neighborhood kids wore necklaces with name tags. She wanted to implement this idea with Sarah. Then the brilliant hit item comes out.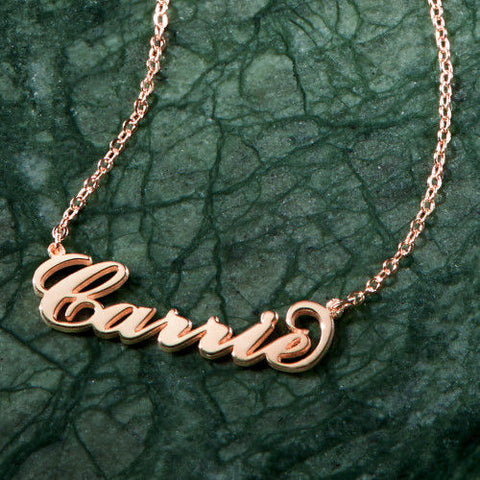 BEAUTIFUL INSPIRATION ORIGIN FROM A NAME
Thanks to the iconic fashion of Carrie, the aforementioned series reaches women, new generations. Many continue to wear their own infinity nameplates while new, contemporary styles continue to appear on the market. Due to the trend to combine jewelry - especially gold jewelry - the chain with name tag developed into the perfect anchor, the eye-catcher of the combined pieces of jewelry. Many innovative styles have been developed that take a modern take on the classic Carrie chain made of gold. These styles include: initial chains, rose gold or silver name tags.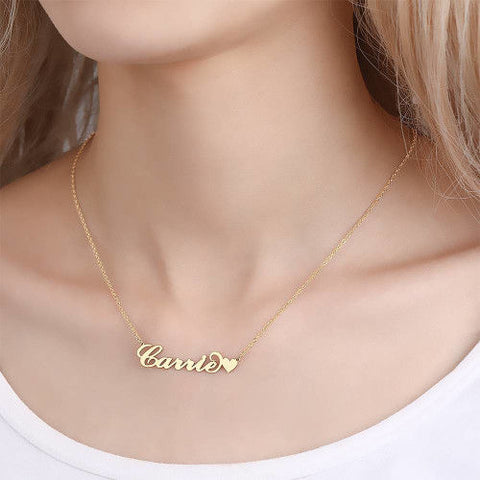 DON'T BE SHY TO SHOW YOURSELF
Wearing a personalized name necklace is a trend that is here to stay. You are not only make a personal statement, but also adorn yourself with an eye-catching, stylish personalized design. Whether you have your own name or the name of a loved one with you, this piece of jewelry completes your daily look. Daily life is plain, but true love dose make sense and light up our world. No matter who you are, you deserve a specially own designed item to remind yourself: You, are the most delicate flower in the garden.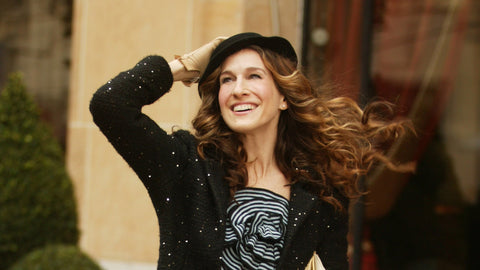 ---