Stylish Silver Fully Customized Infinity Jewelry with Engraving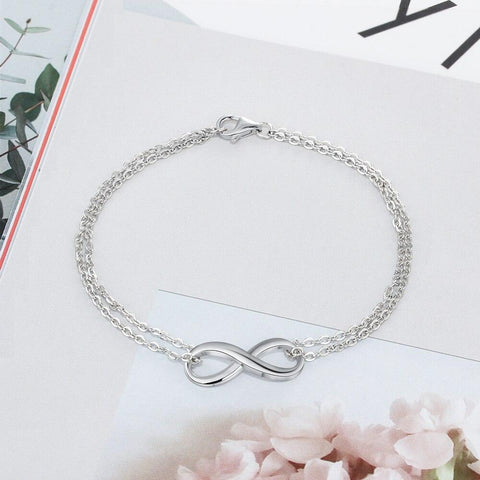 Of all the jewelry options available, silver infinity engraving name jewelry are high on the list because of their versatility - and when engraved, they are as meaningful as they are beautiful! And it is creative and fulfilling to design great bracelets and create eye-catching looks that suit all occasions in life.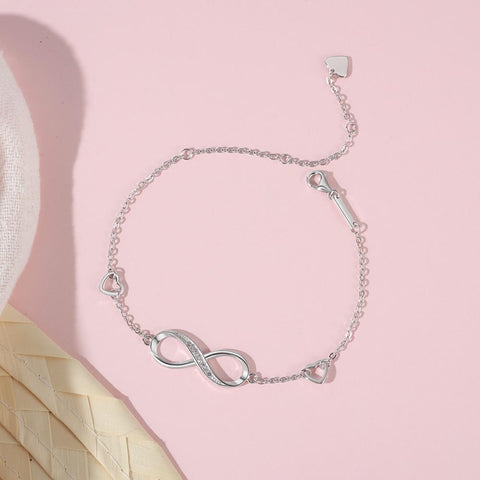 925 silver bracelet with engraving and heart          
PERSONALIZED ID BRACELETS ARE SUITABLE FOR EVERY OCCASION
Sometimes the classics are the best! A beautiful ID bracelet can be easily attached to the wrist to enhance your everyday look.Whether you are adding your own name, your child's name, a monogram, or a word that has a special meaning, this bracelet style has it! Since these bracelets go with every style, our 925 silver bracelet with engraving and heart is an excellent gift and strengthens the emotional bond between you.Whoever wears the bracelet and whatever the occasion, this style of bracelet is always a hit!
EARRINGS ARE ALWAYS ELEGANT WHEN WORN ALONE OR STACKED
Earrings are more popular than ever and there are so many different ways to style them!Simple styles are nice, but why not upgrade them with something special?
This silver engraved infinity earrings offer plenty of room for self-expression, all in one sleek, stunning piece. The charms add a sense of movement and texture to your ears and remind you of the ones you love.Because this style is so easy to customize, it's perfect as a family gift for mom or grandma or as a charming thank you for the bridesmaids!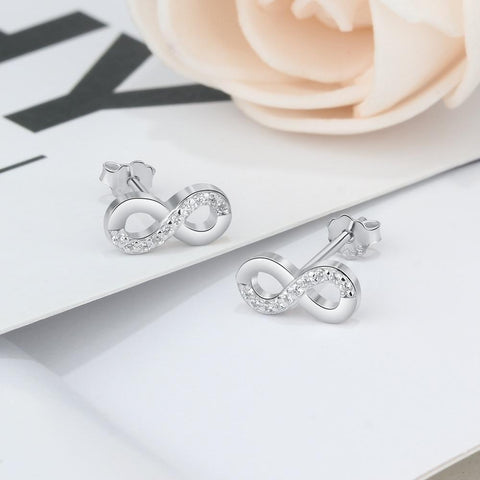 TRENDY & MEANINGFUL, INFINITY BRACELETS ARE FOREVER ELEGANT
We have long been in love with our infinity bracelets.While the simple design always melts our hearts, the multiple infinity bracelet with engraving made of silver offers a fantastic upgrade with even more room for creativity.Design it with kids names, pet names, your name next to your significant other's name, or even the names of places you will never forget.Pick a single theme or add a few different elements to bring back those "eternal" memories that always put a smile on your face.Like many other silver bracelets, this one goes with everything - and is great for mixing and matching to add even more attention to your look.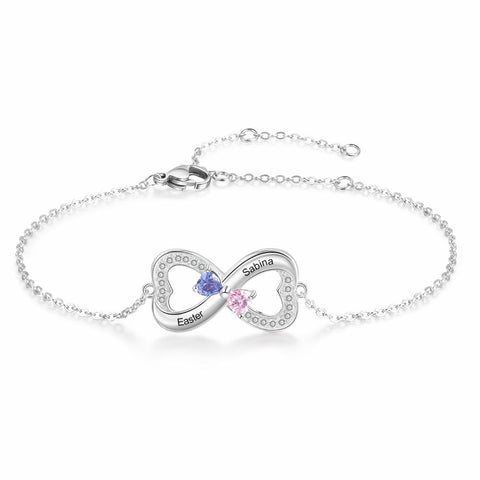 STERLING SILVER CUSTOMIZED INFINITY BRACELET WITH HEART BIRTHSTONE 
MEN'S BRACELET WITH ENGRAVING - MAKE IT LOOK TRENDY TOO!
Bracelets aren't just for women, they're trendy for men too!
This black engraved leather bracelet for men is packed with masculine details to help them look and feel good. The specially engraved silver pearls add a touch of shine and texture, while also reminding him of his loved ones and keeping him connected to what is most important in life.
The design of this bracelet is very simple: choose names, initials, dates and other important details to give each pearl a special meaning.Once complete, it looks amazing with its favorite casual style and can also add a cool touch to business attire.Some men like the bracelet trend so much that they wear a few different styles together and this one is perfect for that.Pair it up with a similar model or two, or mix things up by adding a leather band bracelet or two.Everything is possible there!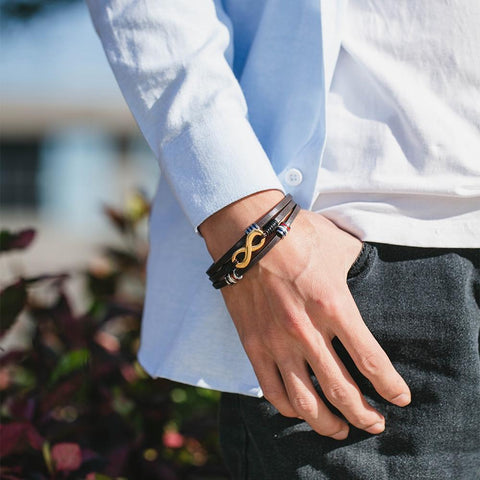 Leather Bracelet with Infinity Name Engraved Special Design Gift For Men
ENGRAVED SILVER BRACELETS FOR EVERY SITUATION: WHAT'S YOUR FAVORITE PIECE?
Whether you are laying and stacking a variety of bracelets on one wrist, wearing a few on both wrists, or opting for a classy, ​​pared-down look by picking a single piece, you will love the way bracelets are yours Complement your favorite outfits.There is no doubt about that: infinity name bracelets with engraving are always stylish.Even if trends change, they stay here with us!
---