Discover Your Name Necklace in Different Materials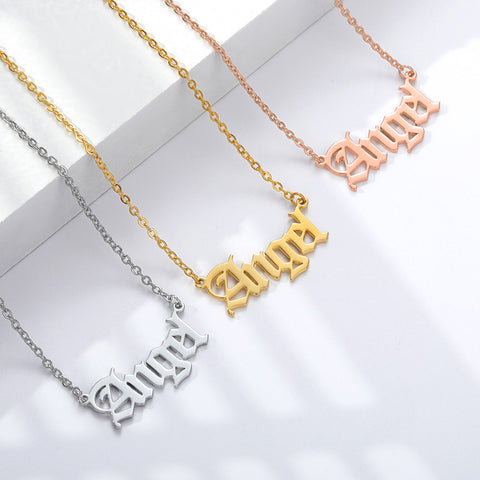 Custom is our specialty, and our first recommend pieces of jewelry is the name necklace. Our extensive collection of name necklaces includes many different materials, sizes and fonts; made for different personalities and styles. Pick your personal name necklace suits you best must make you shine.
NAME NECKLACE MADE OF SILVER
Sensual silver jewelry sets the scene for every ensemble and lets your entire classic appearance shine. A silver name chain is an option that goes with absolutely any outfit without looking "overstyled". Silver chains can be combined perfectly with black and cold colors and ensure a chic cleavage. Any white tones are also a great combination with a silver chain. And the coordination with light colors, such as turquoise or orange, creates a particularly trendy look. When you go out in the evening, you are welcome to combine your silver name necklace with other pieces of jewelry that are adorned with precious stones such as diamonds or rubies.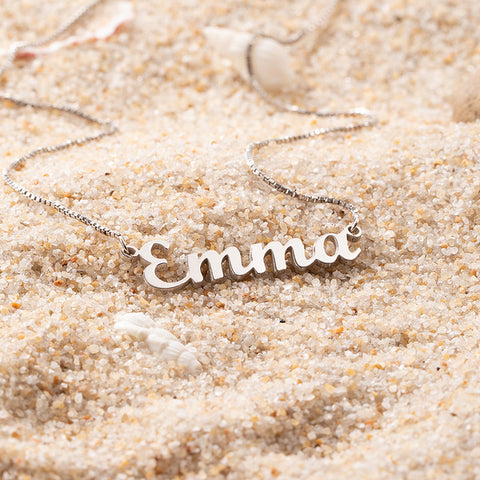 NAME NECKLACE WITH GOLD COATING
Discover your gold dream with name necklaces in gold. One of the biggest jewelry trends today is to wear gold jewelry as an essential in your daily wardrobe. The press has joined this trend - numerous fashion beauties adorn themselves from head to toe with gold jewelry. In particular, gold name chains are often seen in combination with other chains. A gold name necklace is the perfect starting point that will be the focus of your look. Browse our name necklace collection, you'll find most of them are plated in gold and choose the chain that best expresses your beauty.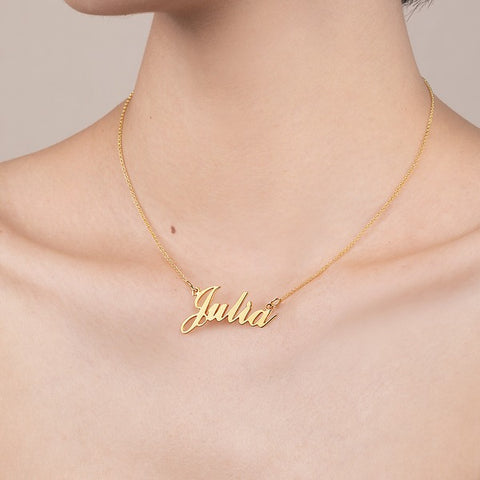 NAME NECKLACE WITH ROSE GOLD COATING
Choosing a different color of gold is a great way to avoid an overly predictable look. Rose gold is an excellent choice because it has the warmth of yellow gold while also making a stylish statement. This reddish metal was first used in Russia when the famous jeweler Carl Fabergé began to incorporate this metal into his designs in the late 1800s. From then on, the metal spread all over the world and was highly valued by many people. Rose gold provides a beautiful, feminine canvas for a personalized name necklace. Additionally, it's used in engagement rings as a romantic alternative to the standard grey-white and yellow tones of other metals.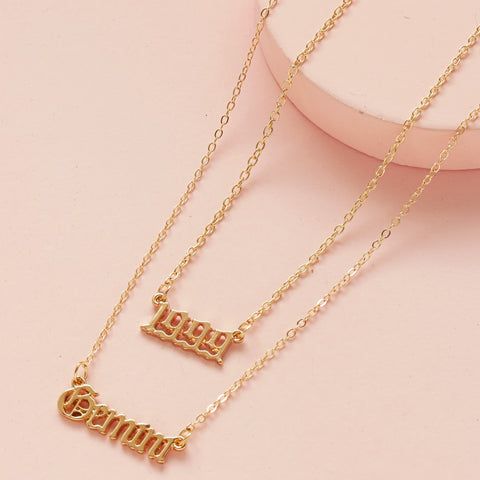 NAME NECKLACE WITH DIAMONDS
Go for something timeless! Diamond name necklaces never go out of style and are a staple of any jewelry collection. A high-quality diamond name necklace is a charming gift that will last for countless years and is therefore an absolute must for every collection. While it creates a delicate look when worn alone, it can also be combined with other pendants. This piece of jewelry simply goes with every style, because after all diamonds ARE "a girl's best friend".  Fully diamond-studded chains are available, find more options in our birthstone necklace collection to meet your favorite ones.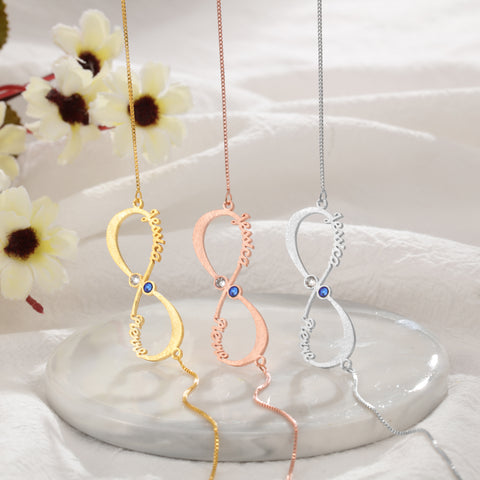 ---